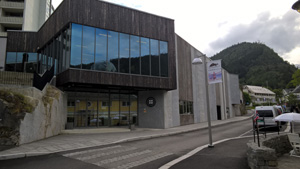 The Norwegian Museum of Travel and Tourism
Holmen 12
The Norwegian Museum of Travel and Tourism offers an insight into the history of Norwegian tourism from the 19th century until today. It follows the tracks of our first travellers - the explorers, the salmon anglers and the artists, who in their wake inspired the development of attractive tourist destinations countrywide. This spectacular new museum opened in the spring of 2016. The building is carved out of the solid underlying rock, creating a wonderful symphony of natural stone and light, which makes it an attraction in itself. The exhibitions are designed to correspond with the architecture, and feature the use of digital technology.  
Opening hours:
2nd May - 30th June, Tuesdag-Sunday: 10 am-4 pm
July - August - September, every day: 10 am-6 pm
1st - 15th October, Monday-Friday: mandag-fredag: 10 am-4 pm
Outside these opening hours we welcome groups upon request.